TREE SERVICE
Content currently under updates, please check back soon.

You want to trust your landscaping company to maintain your property even when you're not visiting your South Florida estate.
You don't want to get a phone call or an email from your community's account manager telling you that your grass hasn't been mowed in two weeks, the flowerbeds look weedy, and your palms need pruning.
Instead, you need a Jupiter, FL landscape maintenance company that shows up when they promise to and they finish the job. You also need a landscape company that leaves your property looking immaculate.
In other words, you need Lucky Landscaping.
Owner, Austyn Roth, and his team have 30 years of combined experience working in the landscape and lawn care industry. Lucky Landscaping's new, exciting approach to landscape maintenance will reassure you that your property is well taken care of whether you're in South Florida or not.
Lucky Landscaping's Lawn Care and Landscape Services
When you hire Lucky Landscaping to maintain your estate property, you can rest assured that the landscaping crew shows up at the time and day that you scheduled.
You get a text message the week of your service. At the beginning of each month, we'll email you all the planned visits to your property for that month.
Our crews arrive at your property in clean uniforms and in clean trucks. We're easily recognizable every time we drive into your community.
You can be assured that you only get professional technicians and teams working on your estate property. Our technicians come fully licensed, certified, and insured in all of our specialty services.
We deliver the landscaping services that you expect from a South Florida landscaping company, including:
Whether you are full-time or a seasonal South Florida resident, your schedule will be ours, and your special requests for landscaping upgrades and trimmings will be completed at your convenience.

Our landscape team will always upgrade, maintain and preserve your home's outdoor space with exact detail. Your property maintenance includes irrigation, flowers, lawn, trees, as well as the total health of your landscaping.

We will take personal pride in gardening your property each week and will make it the lush outdoor living space that you and your friends can enjoy any time of year.

We provide residential estate lawn and landscape maintenance in the following South Florida neighborhoods: Juno Beach, Jupiter, Jupiter Island, Palm Beach Gardens, Tequesta and surrounding areas.
"You can count on us to provide you with exceptional service. We want you to feel lucky that you found the best commercial landscaping in South Florida to manage your property or HOA community."
Specifically, we provide the following landscape maintenance services that encompass all of your property's needs:
Installing annuals to give you continuous color throughout the year. We also remove all dead plants and weed your landscaped areas. We'll trim back your perennials and make sure your flowerbeds always have fresh color.

Hardscaping and paver installation. We provide innovative, sustainable design that complements your estate as well as the natural environment.

Hardwood tree trimming and uplifting so people can pass safely underneath your trees. We also trim any storm-damaged trees on your property. We make sure that all of your hardwood trees are healthy and pest-free.

Irrigation services include design, installation, and maintenance packages.

Lawn maintenance, including mowing, detailed trimming, edging, and fertilization services. Your lawn grass will always be thick, green with no weeds or diseases.

Mulch application and touch-ups. You won't find any weeds in your flowerbeds or in your landscape. We use only premium mulch to give your property a flawless appearance.
Palm trimming. We prune palm leaves to make sure that your South Florida palms look tidy. Plus, we remove any coconuts growing in your palms.

Paver patios and other hardscape services. Our design team has a diverse set of backgrounds and perspectives. We'll bring you a variety of design ideas for you to consider.

Pest management, including pest control services. Our licensed and certified technicians will provide perimeter pest control so you can freely enjoy all of your outdoor spaces.

Pool packages to keep your swimming pools clean and safe. If you visit your estate during the winter, or at any other time, you'll find that your swimming pool sparkles.

Stonework services provided. Our design team will include stonework on your master landscape design to keep your property looking balanced and beautiful.

Wetland/Preserve Management. At Lucky Landscaping, we're lifelong Floridians, so we have a vested interest in keeping wetland preservation areas clean, healthy, and sustainable.
You Don't Have to Worry About Your Vacation Estate When You're Not in South Florida
It's reassuring to know that your property will look manicured rather than neglected. Anyone driving by your home will know that someone is taking care of the property. Anyone with harmful intentions will know that your property won't be the one to rob.
You also won't have your neighbors or the community auditor contacting you about an unkempt property. If you want to experience some sunshine and warmth over a wintry weekend, your estate property will welcome you by looking manicured and colorful.
Here are the many benefits you receive when you hire Lucky Landscaping to oversee your property's exterior needs:
We're your one-stop-shop for all of your landscape maintenance needs. You only deal with the owner, Austyn Roth, who makes sure that your property gets five-star treatment.

Our crews are fully equipped to handle all of your outdoor needs. Our maintenance teams don't cut corners. Instead, they pay attention to detail and complete a thorough job.

We work hard to give you a stunning property.

We're in constant communication with you. We're only a text or phone call away.

We keep our commitments. We show up to your property when we say we will each scheduled day.

We make paying your invoice simple. It's all done safely and securely online through our client portal.

We're punctual and reliable.

We provide outstanding customer service.

We drive clean trucks, and each crew member wears a clean uniform because we strive to keep a spotless reputation.
Our Values Define Our Work
At Lucky Landscaping, we're committed to four values that are behind every project we work on:
We're your one-stop-shop for all of your lawn care, irrigation system, and residential estate landscape maintenance needs.

We give you top-notch customer service every time we communicate with you or work on your property. Your time is valuable, so we get the job done right the first time.

Our uniformed, trained and professional crew are dedicated to maintaining your estate home at a level you will be proud of.

You'll always receive top to bottom professionalism every time you communicate with us as well as each time we work on your property. Our work isn't complete until you're satisfied. It is our pleasure to serve you and our community.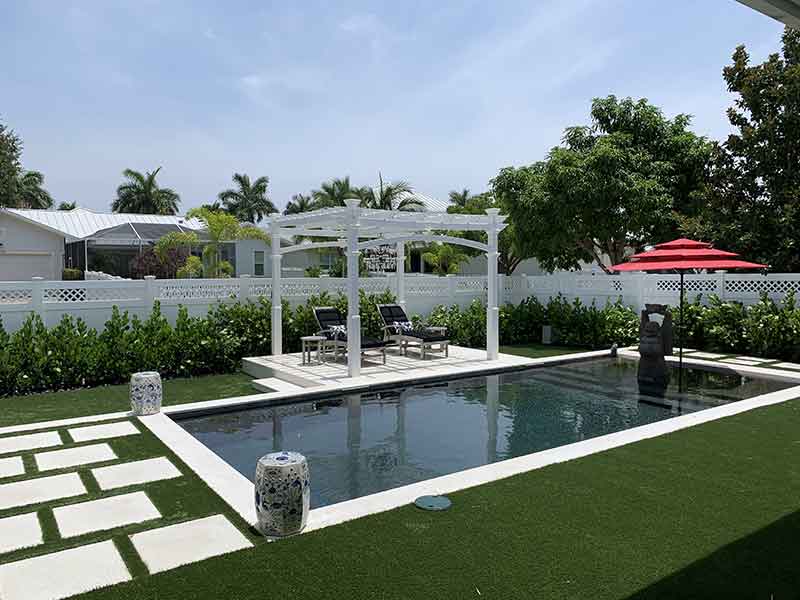 Contact Lucky Landscaping Today for Residential Estate Landscape Maintenance Needs in South Florida
At Lucky Landscaping, our mission is to beautify your property, so you feel proud every time you walk outside. We pride ourselves on excellent client service and our attention to detail.
Our work isn't complete until you're satisfied. When you work with us, expect us to get it right and on time … every time.
Call us today at 1-561-779-4127 or fill out our simple contact form.