TREE SERVICE
Using the guy with a chainsaw and a truck could be a very expensive route to take when trees aren't trimmed right or damage occurs! Do it right the first time and hire a licenced and insured Tree Service company like Lucky Landscaping.

You want to trust your tree service for tree trimming, tree removal or stump grinding to licenced and insured experts like Lucky Landscaping.
Austyn Roth, our president, and owner of Lucky Landscaping, recognized that there was
a need for a tree trimming and tree removal company in 2016. Living in South Florida, we experience down trees and branches due to tropical storm and hurricane-force winds. Austyn's landscaping company, Lucky Landscaping, has lent a hand in the storm clean-ups. That's when Austyn realized the need for a professional tree company.
There are a lot of uninsured, unlicensed, and uncertified contractors in the area that may have only a chainsaw. You're taking a tremendous risk by hiring them. Sure, these contractors are cheap. And yet, what do you do when the tree that a contractor is working on drops a couple of big branches on your neighbor's swimming pool or roof? You've just opened yourself up to a financial mess.
Instead, you need to hire us at Lucky Landscaping.
Tree Trimming
Grass not growing under your maple tree? is the sunlight being obstructed from entering your homes windows?
Then you need professional tree services. Lucky Landscaping's tree trimming will cut your trees back 30% to allow more sunlight to filter to your lawn and into your home. We selectively prune your trees in order for:
More sunlight to filter through, encouraging healty lawn grass development.

Oxygen circulation through your tree's canopy promoting health.

Improved safety during severe storms of hurricanes, eliminating the threat of dead or diseased tree branch damage to your home or property

Trees to be restored back to thier original beauty, symmetry and shape.
"You can count on us to provide you with exceptional service. We want you to feel lucky that you found the best tree service company in South Florida for your tree trimming, tree removal and stump grinding."
Tree Removal
Do you have an old oak tree leaning precariously close to your house, or are you getting concerned about the next hurricane that could come through South Florida causing your favorite palm to come down?
Then you need the professional tree services of Lucky Landscaping, your tree service company serving South Florida.
Why does a Homeowner or a Property Manager Need a Professional
Tree Removal Company?
Taking down trees is dangerous business. You don't want just anyone to remove them.

Call Licensed and Insured Lucky Landscaping. We will safely handle all of your tree removal and storm damaged trees.

We have a professional, trained team and combined have well over 20 years of tree removal experience.
Stump Grinding
Did you remove an old oak or pine that was on its way out? The job was done, but now you have an ugly stump taking away from your backyard beauty?
Not only are stumps an eyesore but it is a safety hazard too. Call the licensed and insured professionals at Lucky Landscaping and we will get rid of it for you.
Why You Need the Pros to Clear Away Your Ugly Stump
Sure, you can call the young guy down the street to grind down your stump because he is the cheapest guy around.Yet, what do you do if he messes up or worse, hurts himself? If he doesn't carry the right insurance, you'll be paying a lot more money out of pocket.

Licensed and Insured protects you and Us.We are fully covered.

The right equipment makes all the difference.We have the heavy-duty equipment and can grind a stump down in two to five minutes, then be out of your way.

Dealing with the debris.We can leave the shaving for you to use as mulch, or take the debris away.
Our Values Define Our Work
At Lucky Landscaping, we're committed to four values that are behind every project we work on:
We're your one-stop-shop for all of your lawn care, irrigation system, residential estate landscape maintenance needs and tree service.

We give you top-notch customer service every time we communicate with you or work on your property. Your time is valuable, so we get the job done right the first time.

Our uniformed, trained and professional crew are dedicated to maintaining your estate home at a level you will be proud of.

You'll always receive top to bottom professionalism every time you communicate with us as well as each time we work on your property. Our work isn't complete until you're satisfied. It is our pleasure to serve you and our community.
Contact Lucky Landscaping Today for Your Tree Trimming, Tree Removal or Stump Grinding Needs in South Florida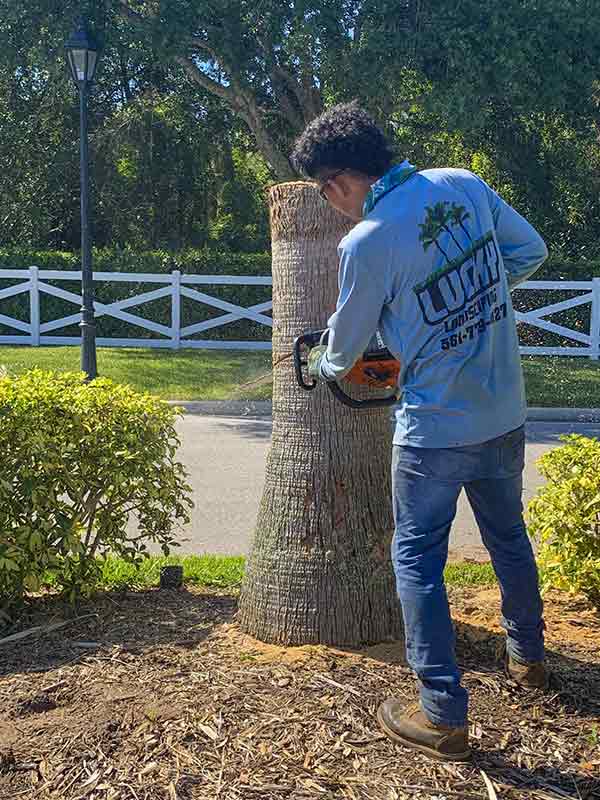 At Lucky Landscaping, our mission is to safely remove or trim the trees on your property, restoring it to its best presentation. We pride ourselves on excellent client service and our attention to detail.
Our work isn't complete until you're satisfied. When you work with us, expect us to get it right and on time … every time.
Call us today at 1-561-779-4127 or fill out our simple contact form.