ABOUT LUCKY LANDSCAPING
The Man Behind The Operation.
Lucky Landscaping was founded by Austyn Roth, a proud South Florida native who calls Jupiter, FL, home.
At the young age of 8, Austyn Roth embarked on an entrepreneurial journey by pushing his lawn mower through the Paseos community, providing lawn care services to earn some extra money. With each year that passed, Austyn's determination and ambition grew, and he made a conscious decision to reinvest every penny back into his building his company.
Through his unwavering dedication and smart financial decisions, Austyn's savings steadily grew, fueling the growth and expansion of his business. At the remarkable age of 15, Austyn achieved a significant milestone by purchasing a truck, enabling him to expand his service area and take his business to the next level.
This milestone not only allowed Austyn to broaden his reach but also opened doors to new opportunities for Lucky Landscaping. With a truck in his possession, Austyn hired a driver and was empowered to take on larger projects, serve more clients, and deliver his exceptional quality of work to a broader community.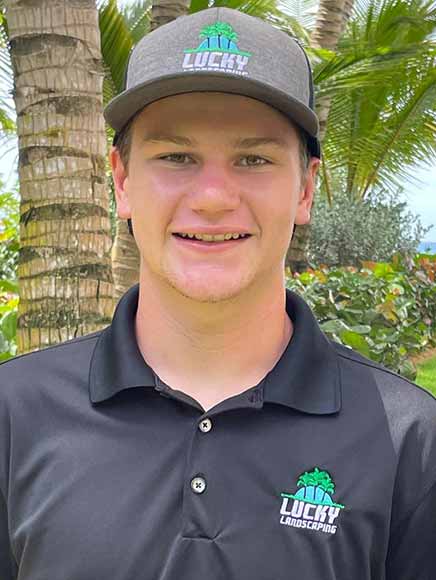 As Lucky Landscaping continued to grow steadily each year, Austyn recognized an opportunity to step into the commercial aspects of landscaping. This expansion allowed us to serve a wider range of clients and meet the unique needs of commercial properties.
Throughout this journey, we observed a common issue within the industry. National service providers often prioritized profit and loss statements over the quality of service they delivered. Cutting corners and compromising on quality became all too common in the pursuit of maximizing profits.
At Lucky Landscaping, we wholeheartedly believe that compromising quality for short-term gains is not the path to success. We understand that our clients deserve exceptional service that goes above and beyond their expectations. We refuse to sacrifice quality in favor of financial considerations.
Today, Lucky Landscaping continues to thrive under Austyn's leadership, driven by his entrepreneurial spirit and the solid foundation he built from his early endeavors. With a relentless focus on delivering exceptional quality, superior service, and continuous expansion, Austyn and his team strive to exceed the expectations of their clients while leaving a lasting impact on the landscapes they touch.
"I firmly believe in the principle that the money will follow when we stay true to our values and consistently deliver on our promises. Financial success is a natural byproduct of providing exceptional service, maintaining integrity, and exceeding our clients' expectations"
Lucky Landscaping Commitment
"I founded Lucky Landscaping On 3 Key Principles" – Austyn Roth (Owner)
By following these 3 principles we believe our customers can feel assured that they are being taken care of.
WIN for Property Managers, Boards and Communities by:
Present a Brochure-Ready Property.

Attract and Retain New Residents.

Strengthen and Increase Financials.

Lighten Your Load of Responsibilities.

Secure a One-Stop Partner.
WIN for Lucky Landscaping:
Develop Relationships Built on Trust.

Enhance the Environments of our Communities.

Serve Clients that Share our High Quality Standards.

Maintain our Reputation of Honesty, Service and Integrity.
We hope you give us the opportunity to maintain your Business & Shoppes, or HOA Community.